Recognition for Bridlington Rangers as they become a Charter Standard Club
Another successful year for junior football club BRIDLINGTON Rangers Junior Football Club is celebrating another successful year after being awarded charter mark status by the Football Association. And they have also been recognised for the third season, as an outstanding junior sports club by the East Riding of Yorkshire Council. Speaking to the Free Press, ERCFA Football Development Officer Jonathan Day said: "Bridlington Rangers are one of the largest clubs in terms of junior football and it is obvious that they have put in a lot of hard work over the last six-12 months to meet the criteria set by the F.A. "This sets out to raise standards, recognise good practice and reward quality. Rangers are now a Charter Standard Club and no doubt could go on to become a Charter Standard Development Club which is the next step open to larger clubs. The club can be proud of its achievements." Founder chairman John Gibson MBE said: "The awards endorse the high standard the club has reached. "I pay tribute to officers, managers, parents and players, past and present. Our aim is to further increase player numbers and to continue to provide high standard coaching." The club motto is 'to win fairly, to lose with honour'. And it has seen remarkable growth since it was formed with 11 players in 1979. It now has 16 teams with 235 players ranging from six to 17 years-old, and since its inception the club has seen several players progress to the Premiership, namely Richard Cresswell (now Preston NE), Lee Morris (Derby County) and Curtis Woodhouse (Birmingham City). Quite a large number of young players have been invited to join Schools of Excellence at several clubs, including York City, Hull City and Scarborough. Most age groups play at the Bridlington Sports and Community Club where Rangers are one of the consortium of sports clubs using the facilities there. Rangers are the second junior football club in Bridlington to gain the FA's charter mark, Bridlington Town Juniors were awarded the status earlier this year.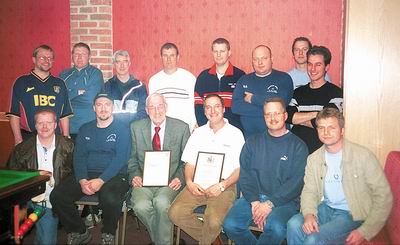 Picture caption: Bridlington Rangers' chairman John Gibson MBE (seated left centre) and vice-chairman Ken Johnston (right centre) holding Rangers' latest awards with some of the club's many managers pictured at a recent management meeting.
BRIDLINGTON RANGERS
CHARTER STANDARD CLUB